Published on:
We are excited to announce the release of the Northwest MLS Mobile App, a powerful tool that provides the most up-to-date listings in your market, and helps brokers and their clients connect.
FEATURES:
Access thousands of real estate listings with the touch of a few buttons
See full listing details including property history
Brokers and buyers or sellers can connect to share listings and get feedback
Get real-time property and market insights
Integrates with major real estate industry tools
---
Map Search
---
Enter a city, ZIP code or neighborhood to search for listings. Once you selected a location, browse properties on the interactive map, or view as a list. You may sort your list by Price, Address, Living Area, Status Date, or Distance.
Advanced Search: Filters
In the map search bar click on FILTERS. Basic search features include property type, sale or rental, price, number of bedrooms and bathrooms, living area (in square feet), lot area, status, number of days listed, and upcoming open houses. Additional search criteria include amenities, features, fireplaces, interior features, new construction, covered parking, pets allowed, pool type, style code, view, waterfront, and year built.
---
Saved Searches
After adding your criteria, you may choose to save your search by clicking on the Save Search bubble at the bottom of your screen. Name your search and click Create. To access your saved search in the future, click on the Saved Searches icon on the home screen, or click on the More icon at the bottom of your screen and select Saved Searches.
---
My Favorites
Keeping track of your favorite properties is quick and convenient. When viewing a specific listing, click on the star in the upper right-hand corner of the listing details and choose Favorite or Discard. This allows you to easily find your favorite listings, as well as eliminate Discarded listings from future searches.
---
MLS# Search
Search for specific listings with the unique MLS listing number. Enter up to ten MLS numbers.
---
Calculator
Want a quick estimate of your monthly mortgage costs? The in-app calculator gives you an estimate based on the sale price, down payment amount, interest rate, amortization, and frequency of payments. You may also access the calculator by clicking on Mortgage Estimator at the bottom of each listing.
---
In-app Communication
Brokers can share their own branded version of the Northwest MLS Mobile App with you, giving you the ability to collaborate quickly and easily directly through the app. Receive customized listings, let your broker know which listings are your Favorites, and send messages via email or text.
---
Sharing
Click on the Share icon within any listing and you may choose to share that listing by SMS (text) or email.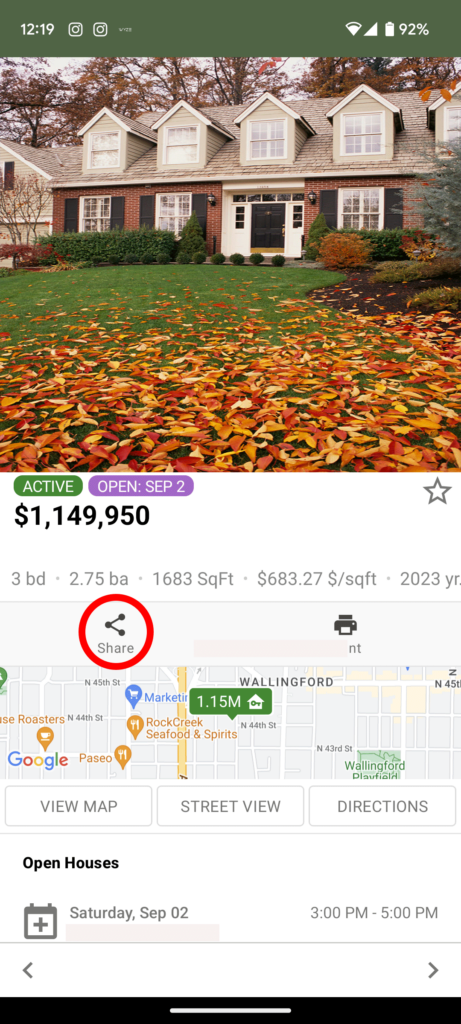 ---
Tips & Facts
Learn more about Northwest Multiple Listing Service and how we help our member brokers provide the best services to their clients.
---
Working with an Northwest MLS broker
When you are ready to begin your real estate journey, your NWMLS broker will send you a code to access their personalized Northwest MLS app. This will allow you and your broker to communicate directly through the app! They can send suggested listings and comparable properties via text or email and you can mark your Favorites and Discards, and add your comments to properties of interest.
Get started by downloading the app today!
Search for a NWMLS broker in your area!