Published on: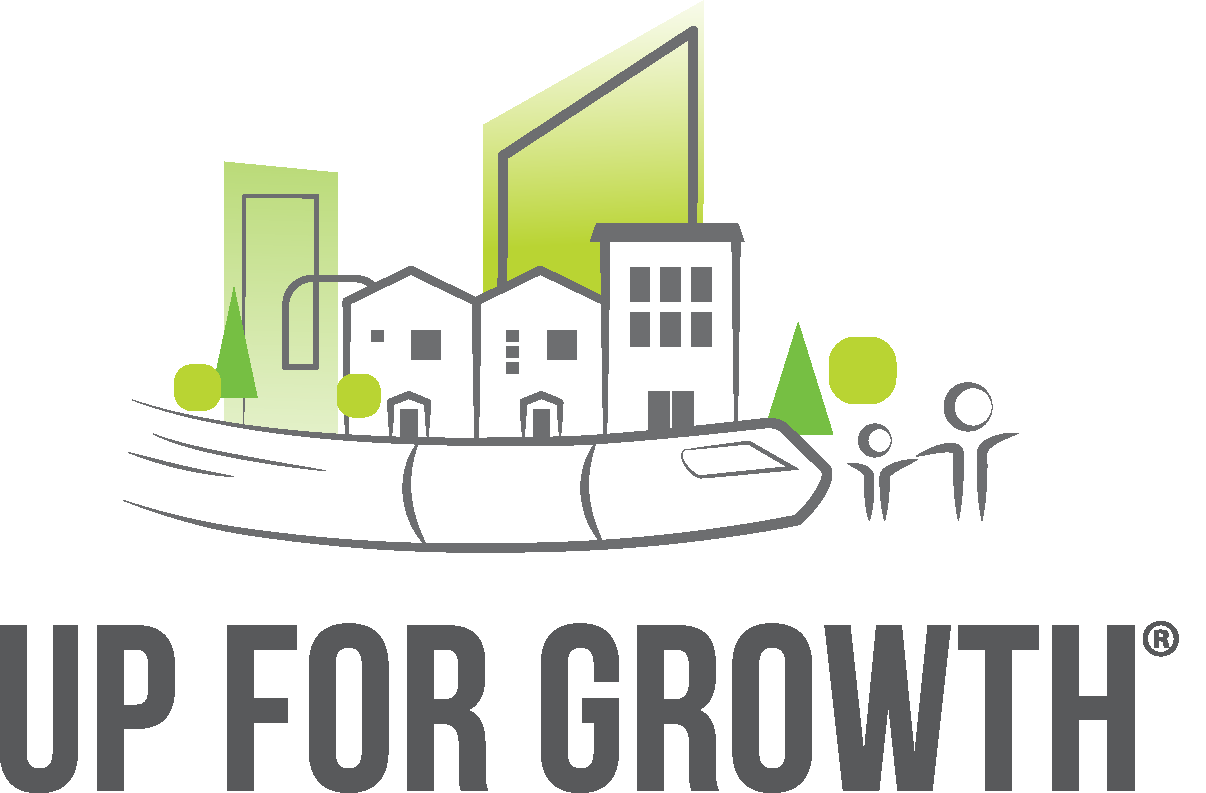 Washington state fell 225,000 units short of meeting its housing needs – and that's just for the period from 2000-2005, according to a new report. That study was based on research by Up for Growth, a nonprofit coalition that produced 24 pages of findings titled Housing Underproduction in the U.S.

The housing report uncovered 23 "under-producing" states with shortages totaling 7.3 million units during the 2000-2005 timeframe. Collectively, that shortage represents about 5.4% of the country's total housing stock and "a supply and demand imbalance that is reflected in today's home prices." Within Washington, the housing shortage amounts to 7.5% of the total 2015 housing stock statewide.
"Despite steady economic and population growth, Washington state is experiencing a severe shortage of homes," said Mike Kingsella, executive director of Up for Growth. "The state's housing shortage holds back economic growth, creates financial hardships on families, and thwarts environmental sustainability."
The report should sound alarms, Kingsella noted while adding, "It also provides a clear path forward for how Washington can build the housing needed to accommodate continued growth. We hope the report is a resource for policymakers and advocates to use as they develop solutions to Washington's housing crisis."
The executive of one King County-based consortium with 175 member organizations and businesses said the evidence in the report "beckons a renewed urgency for bold action."
The analysis of Washington's housing shortages, developed in partnership with ECONorthwest, examined each county's ratio of housing units versus household formation from 2010-2017. Statewide, Washington only built .99 units of housing for every new household formed, which compares to the national average of 1.06.
Over the same timeframe, the stated added one unit of housing for every 2.24 primary jobs created, but the ratio was much higher in counties along the I-5 corridor. In King County, for example, 3.33 jobs were created for every new housing unit, suggesting home construction is lagging economic growth.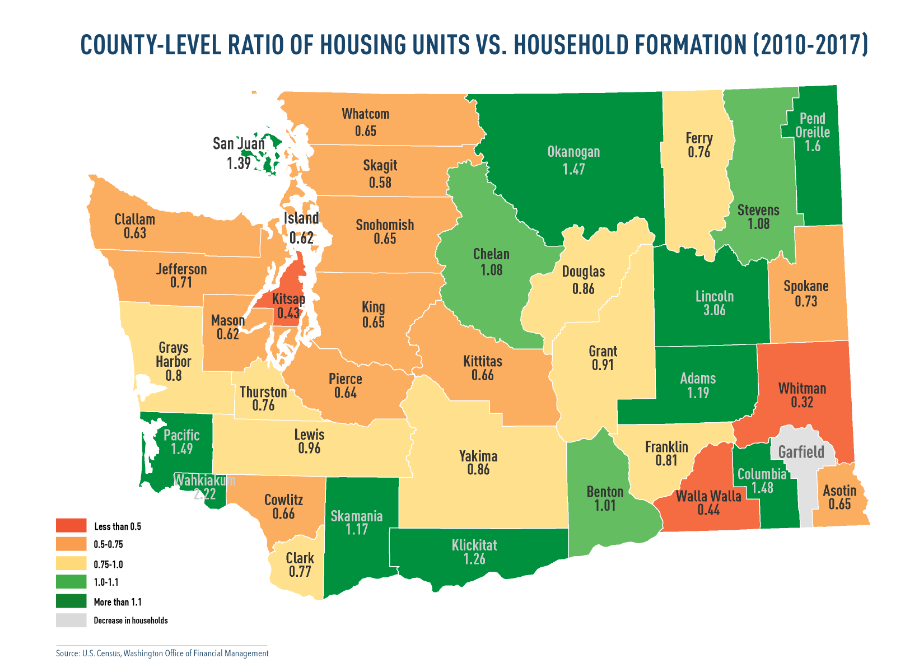 Courtesy of Up for Growth
The report also assessed what kind of housing is missing in the state. An estimated 181,000 missing units – or 80% of the statewide shortage – are for families earning up to 80% of area median income. That suggests the housing shortage is disproportionately affecting lower income households, the report's authors stated.
"From across the state the clarion call for more affordable housing is coming through with intensity," said Marty Kooistra, executive director of the Housing Development Consortium, which partnered with Up for Growth to unveil the report. He said the evidence in the report "beckons a renewed urgency for bold action."
Marilyn Strickland, current CEO of Seattle Metro Chamber of Commerce who recently announced plans to run for public office, said the new report offers a wealth of data on the urgent need to pass policies that add more housing across the entire state.
Included in the report were four policy principles needed to build housing in a more sustainable and accessible way:
Increase and expand funding for affordable housing to enable more mixed-income housing and to significantly expand resources for affordable housing.
Sensible zoning and land use policy reforms that reduce or eliminate artificial barriers that unnecessarily raise housing costs.
Regional planning and accountability to accommodate growth and forecasted housing needs.
Public-private partnerships that enable denser and more affordable housing production.
Prioritizing denser housing near transit locations or in job-rich but housing-poor areas could yield significant benefits, according to Up For Growth, including:  reducing vehicle miles traveled by 36 percent, increasing gross state product by $103 billion, and boosting state tax revenue by $660 million, "all relative to 20-year projections based on current development patterns." Moreover, researchers say this would require only 12 percent of the land used to deliver homes under current growth patterns.
State Senator Patty Kuderer, who chairs the Senate Housing Stability & Affordability Committee, said the report underscores the need to build more affordable housing. She pledged to work in the Legislature this session to increase investments and enact policy reforms that help all Washingtonians obtain stable housing for themselves and their families. "Our efforts must be thoughtful in meeting the immediate needs of all communities across Washington and reducing the chances of our state going through another housing crisis in the future," she remarked.
Up for Growth National Coalition's mission is "to improve the quality of life for working families and create communities that are accessible and affordable for all by promoting more housing close to jobs, efficient transportation, and desirable local amenities." Its member-stakeholders include housing experts and advocates, major employers, economists, transit and planning practitioners, environmentalists, chambers of commerce, municipal leaders, social equity champions, multifamily and single-family builders, lenders, investors, and others.
Last year, Up for Growth released the Seattle Housing Policy and Affordability Calculator, an interactive resource which helps users understand how to balance public policy goals with housing affordability and availability.