Published on: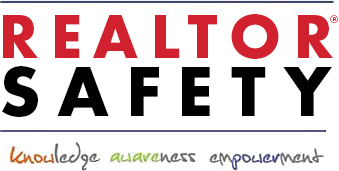 September marks the annual observation of National REALTOR® Safety Month when industry groups remind real estate practitioners of the need to be vigilant year-round to avoid risky situations.
Research indicates brokers are particularly vulnerable in six situations:
Entering foreclosed or vacant homes.
Meeting with a new client for the first time.
Showing a property alone.
Open houses.
Flashy personal marketing materials
Transporting strangers in your car
In a 2010 article for REALTOR magazine ("Real Estate's 6 Most Dangerous Everyday Situations"), contributing editor Melissa Dittmann Tracey outlined safety tips for each situation, prefacing the list with comments by Robert Siciliano, CEO of RealtySecurity.com and author of The Safety Minute: Living on High Alert (Safety Zone Press, 2003).
"Real estate professionals put themselves at risk at so many points. The industry opens itself up to predators," stated Siciliano. "The root of the issue is that you have real estate agents with no formal security training who are then meeting with complete strangers at odd times of the day and in vacant homes," he noted.
 NAR's 4 Tips to Stay Safe
When in the office, use a visitor log book, check potential clients' photo ID, and have them fill out a customer identification form.
Keep your business separate from your personal life online.
When showing a property, leave the front door unlocked for a quick exit, and let the client enter each room first.
Be aware of and use the 10-second rule. Upon arriving at a destination, take 10 seconds to evaluate the surroundings, checking for anything out of the ordinary.
For its part, the National Association of Realtors offers a large array of resources, including videos, webinars, articles, apps and safety tips, all found on a dedicated website.
On September 17, NAR is presenting a free safety webinar led by Dave Legaz, a Realtor and retired NYPD police sergeant. He will discuss predatory behaviors and explain risk-reduction strategies while on the job. Lagaz has been an NAR director since 2013 and teaches agent safety classes across the country. He retired as a police officer in 2002 after responding to the 9/11 World Trade Center tragedy and losing his partner.
In addition to the upcoming program, NAR has archived webinars on several safety topics, including data security and cyber safety; mental health; open houses, foreclosures, vacant houses; personal safety; and working with clients.
Safety resources are also available on the Real Estate Safety Council and Northwest Multiple Listing Service websites.
The Safety Council's resources include downloadable office forms, a 22-page Safety Guide, and series of 12 posters.
Washington REALTORS® were instrumental in creating the Real Estate Safety Council and the Safety Program adopted by the National Association of REALTORS®. The program now reaches real estate practitioners around the world. Members of the nonprofit group include representatives of the brokerage community, the Northwest Multiple Listing Service, the Washington Association of Realtors, Seattle King County Realtors, the King County Sheriff Department, and the State Department of Licensing.
Northwest MLS has nearly two dozen links to safety-related articles and tips on its member website, including the Safety Council's 12-minute video.
The private sector also offers safety tips for real estate professionals. Earlier this year Ripple Safety published a blog, "Why Safety Needs to Be Top-Of-Mind for Real Estate Agents."  The article highlights high-profile incidents when real estate agents were harmed or killed, and NAR reports indicating nearly 40% of Realtors said they've been in a situation that made them fear for their safety while on the job.
American Home Shield has also compiled a list of safety tips and precautions for Realtors to consider.
Industry groups in Canada also emphasize safety. Realtors in Alberta now have free access to "LifeLine Response," an app that allows users to alert their personal support network or summon emergency responders to their GP location. Subscribers can also view thread notifications in their area. The Alberta Real Estate Association offers the subscriptions at no additional cost to its members. The service began after a female agent was sexually assaulted at an open house in Calgary.