Published on: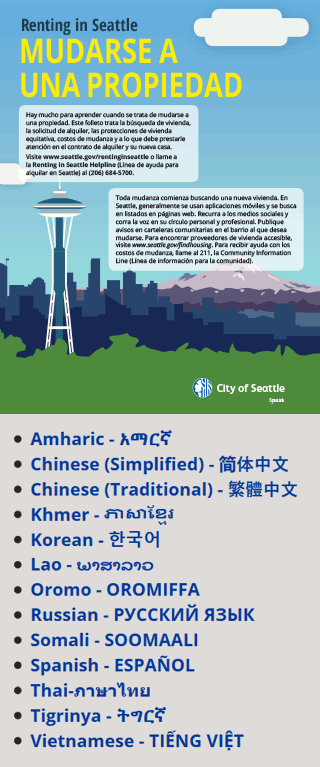 The city of Seattle unveiled a new website last month with comprehensive information and centralized resources on rental regulations plus tips and best practices for successful renting. The resource, available in 13 languages (see list at right) and designed to make services more accessible and efficient, is intended for both renters and housing providers.
Titled "Renting in Seattle," the program follows the passage to two pieces of "historic eviction prevention legislation" by the Washington State Legislature. It allows tenants 14 days (instead of 3) to catch up on overdue rent before losing their homes, allows eviction court judges to use discretion and consider extenuating circumstances such as a job loss or health crisis, expands a mitigation fund, and limits attorney fees tenants can be required to pay. A second bill provides more notice of rent increases, increasing the period from 30 days to 60.
"As we work to address our housing and affordability crisis, Renting in Seattle is one more tool that will help ensure Seattle can be a home for all," said Mayor Jenny Durkan. Renters make up the majority of households in our City, and it's crucial that we have a range of resources so that renters have the tools they need to protect their rights, that property owners understand their obligations under the law, and that when questions arise, they can easily find the help they need," she added.
The city has also added a dedicated helpline at 206-684-5700 to connect renters and landlords to information and resources, and to receive complaints about rental housing.
Historically, rental housing resources pertaining to rental housing were spread across several city departments and various community partners, making it difficult for people to find help. The newly-launched approach creates better alignment for both tenants and landlords. The Department of Construction and Inspections (SDCI) will oversee the new program.
"We are pleased to see the launch of the Renting in Seattle website and the City's recognition of the importance of providing information, training, and assistance to landlords," said Brett Waller of Washington Multi-Family Housing Association. "Landlords play a critical role in providing housing to the residents of Seattle and keeping Seattle housed. The Renting in Seattle website will better assist landlords in accessing essential information to help increase awareness and conformity to new landlord-tenant laws specific to Seattle on an easy-to-use portal."