Published on:
As the median age of the U.S. owner-occupied housing climbs higher, analysts believe it signals growth for the remodeling market. Old structures normally require new amenities or replacement and repairs of older components, they explain.
"Rising home prices also encourage homeowners to spend more on home improvement," noted Na Zhao, senior economist at the National Association of Home Builders. Aging-in-place boomers are also expected to bolster spending on home improvement.
Citing data from the 2016 American Community Survey, the National Association of Home Builders noted half the homes in the U.S. were built before 1980. The median age of owner-occupied homes is 37 years, according to the latest data. That's up from a median age of 31 years in 2005.
The gradual aging is attributed primarily to modest gains in residential construction over the past decade:
From 2010 to 2016, nearly 3 million newly built units were added to the national stock, accounting for only 4 percent of owner-occupied housing stock in 2016. That represents a sharp drop from the previous decade.
Owner-occupied homes constructed between 2000 and 2009 made up around 16 percent of the housing stock.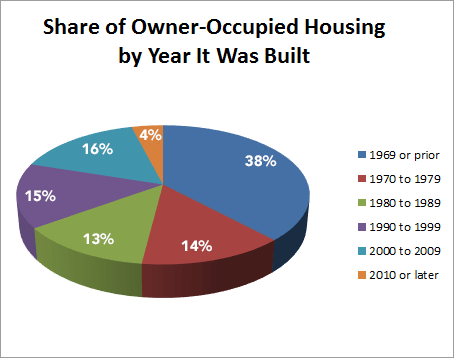 Source: American Community Survey, NAHB
NAHB noted newer homes are more likely being owned by younger generations. Around 70 percent of homes built after 2010 are owned by Generation X (ages 35-to-54) and Millennials (ages 18-to-34).  Of that segment, about one of every four (26 percent) of newer homes are occupied by those in the 35-to-44 age group.
Homes built prior to 1980 are largely owned by Baby Boomers (ages 55 and older). The ACS survey revealed 59 percent of homes built between 1970 and 1979, and 56 percent of homes built before 1969 are home to these Boomers.
NAHB suggests the data implies a growing market for renovations to allow aging homeowners to age in place. The trade group even offers a remodeling checklist for this cohort and a directory of building professionals who are Certified Aging-in-Place Specialists.
Research by other groups echo expectations for growth in spending for remodeling.
In a report published at the beginning of the year, the Joint Center for Housing Studies of Harvard University predicted homeowner expenditures on improvements and repairs would rise 7.5 percent this year. Its Leading Indicator of Remodeling Activity (LIRA) forecasts $340 billion of expenditures during 2018. A researcher with the Center's Remodeling Futures Program noted annual growth rates have not exceeded 6.8 percent since early 2007 (pre-Great Recession).