Published on: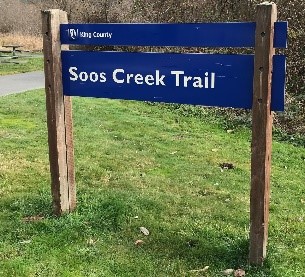 On October 27, whether sunny or rainy, members of Seattle King County REALTORS® and its Affiliate Council will convene at Soos Creek Trail, just south of Gary Grant Park in Kent. Not only will they help with an environmental stewardship project, but they will be honoring beloved colleague Dahni Malgarini-Logar, who passed away earlier this year.
Under the guidance of staff from King County Parks, as the work party wraps up, one or two trees and/or native flowering shrubs will be planted in honor of Dahni, a devoted supporter of the association's TREC (The Realtors' Environmental Council) project. She loved the outdoors and was known to walk the Soos Creek trails almost daily.
Following a 3-hour "boots on the ground" project to remove invasive weeds and blackberries, volunteers will be treated to lunch, courtesy of SKCR's Affiliate Council. The service project also includes an introductory environmental education segment led by representatives of King County's Department of Natural Resources and Parks.
Due to parking limitations and other capacity restrictions, prior registration is required. Carpooling is strongly encouraged. Friends, clients and family members of all ages are welcomed. (Youth under age 18 attending without a parent or legal guardian must bring a signed Youth Waiver to participate.)
Please see details about what to bring, what to expect, and safety considerations in the "Events" section on SKCR's website at nwrealtor.com. Also included is the address, registration link, and event contact.
Lina Anne Rose, volunteer program manager at King County Department of Natural Resources and Parks, said their goal in working with groups like TREC is "to provide high quality service experiences with the goal of connection and engagement in the health of our lands." Each year, Parks staff lead an average of 10,000 volunteers during hundreds of events performing restoration, park improvements, and building and maintaining trails.
Rose said efforts on October 27 "would be really beneficial to help the site reach greater ecological stability. This area needs a lot of stewardship!" TREC volunteers could make a positive impact on the health of this beautiful spot, she added.
Since launching The REALTORS® Environmental Council in 2007, volunteers have worked on TREC projects annually (except during the pandemic and one year when a hazardous windstorm forced cancellation) at locations around King County. Venues have included the West Hylebos Wetlands in Federal Way, the Mercer Slough Environmental Education Center in Bellevue, Dunn Gardens in Seattle, the Duwamish River in Tukwila, and (pictured below) the Cougar/Squak Corridor Park in Issaquah.