Published on: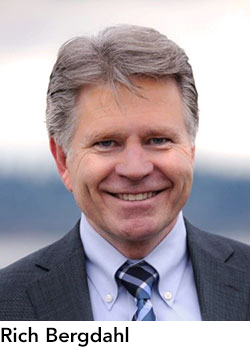 Eleven individuals were singled out for special honors at the 2018 Installation & Awards Banquet of Seattle King County REALTORS® (SKCR). The annual event also featured the installation ceremony for incoming leaders of SKCR and three other Realtor organizations, and a raffle and dessert auction to benefit a scholarship foundation.
This year's banquet, held at The Westin Bellevue, drew a sellout audience of more than 250 participants. They included SKCR members, affiliates, and representatives from the Residential Real Estate Council, Women's Council of REALTORS® (WCR), and Young Professionals Network (YPN).
Audience members raised more than $10,000 for the Seattle First Citizen Scholarship Foundation, which awards grants to SKCR members and their families based on involvement in community service supporting the growth, health, and betterment of communities within King County.
SKCR's highest honor, the Realtor of the Year award, went to attorney-broker Rich Bergdahl, JD, co-owner (with wife Nanette) of Bergdahl Real Property, Inc./RE/MAX Northwest in Kirkland.
Other 2018 recipients of SKCR awards included (listed alphabetically by award name):
Affiliate of the Year

Lisa Howarth, Land Home Financial Services, Renton
Community Service Award
(2 honorees)

Lynn Sanborn, Windermere Real Estate/Yarrow Bay, Kirkland
Star Lalario, Realogics/Sotheby's International Realty, Kirkland
Government Affairs Volunteer of the Year
Shane Davies, Windermere Real Estate/Maple Valley
Instructor of the Year
Mark Makoto Kitabayashi, Windermere Real Estate/Puyallup
REALTOR Achievement Award

Georgia Stevens, Compass, Seattle & Eastside
REALTOR President's Special Recognition
(3 recipients)

Randy Bannecker, Bannecker Public Affairs, Seattle
David Crowell, Seattle King County REALTORS, Bellevue
Sam Pace, JD, Executive Real Estate, Bellevue and Kent
Young Professional Achievement Award
Kale Corey, The Results Team/Keller Williams Realty, Kent
In presenting the Realtor of the Year Award, Sam DeBord, SKCR's 2017 president, described Bergdahl as "inquisitive, thoughtful, not judgmental," and "a good man." He then told Bergdahl "This award is purely on merit," citing his numerous years of volunteering in various roles with the local, state and national Realtor associations.
Kirkland resident Bergdahl is the incoming president of Seattle King County REALTORS and one of 29 recent graduates of the National Association of Realtors' Leadership Academy, a program for selected members with demonstrated leadership abilities. In addition to his Realtor involvement, he is an active member of the Kirkland Chamber of Commerce and Rotary Club of Kirkland.

Lynn Sanborn, one of two Realtors who were honored with Community Service Awards, was recognized for her commitment to monthly giving to various causes. She is a founding member of The Butterfly Effect Group, which coordinates a monthly giving project with cash or in-kind donations. The group also donates a portion of each check to the Windermere Foundation, on whose board she serves. Sanborn, SKCR's incoming vice president of governmental and public affairs, is the managing broker and a "Premier Associate" at Windermere Yarrow Bay in Kirkland. She also serves as an advisory board member at Attain Housing (formerly KITH), which helps homeless and at-risk families with children in King County become stable and self-sufficient.
Star Lalario, the other recipient of a Community Service Award, was recognized for her commitment and compassion for children experiencing homelessness. Drawing on her own childhood experiences in foster care and shelters, she founded a nonprofit in 2016 called Babies of Homelessness, an emergency – crisis response team that mobilizes the community to supply basic necessities to children living in tent cities, encampments, shelters or their cars. Lalario is a broker at Realogics Sotheby's International Realty in Kirkland.
This year's Government Affairs Volunteer of the Year is Shane Davies, 2018 president of SKCR and owner (with wife Susie) of Windermere Real Estate in Maple Valley. Described as a "model volunteer," he has been an active key contact in the 5th legislative district, a volunteer on numerous political interview teams to educate candidates about real estate issues, an advocate for Realtor positions on various tax and regulatory proposals, and a multi-year trustee for RPAC (Realtors' Political Action Committee). In addition to his service to his profession, he has held leadership positions with Rotary and various chambers of commerce.
Instructor of the Year honors went to Mark Makoto Kitabayashi, managing broker at Windermere Real Estate/Puyallup. His involvement in Realtor education dates to 2012 and includes teaching for SKCR, Washington Realtors and Windermere Professional Development. A native of Japan, he is fluent in Japanese and holds multiple professional designations. Kitabayashi, a past president of Washington Realtors and longtime director with the Asian Real Estate Association of America (AREAA), told his colleagues "We need to elevate ourselves by educating ourselves." He says he especially enjoys teaching diversity and global classes to help Realtors develop business skills for working with diverse clientele.
Georgia (Wall) Stevens received the Realtor Achievement award in recognition of her significant participation in both SKCR and NAR. The second generation Realtor is past chair of the King County Young Professionals Network and on the leadership team for the NAR YPN Advisory Board. Among her other Realtor activities, she was SKCR's 2018 RPAC chair, the VP of Government Affairs and a key contact in the 45th legislative district. Stevens was appointed by this year's NAR president to serve on the advisory board for governance review. This rising star will serve as SKCR's 2019 president-elect.
Outgoing president Shane Davies bestowed Special Recognition awards to Randy Bannecker, David Crowell, JD, and Sam Pace, JD, for exemplary service to SKCR's governmental and public affairs endeavors. Housing Specialists Bannecker and Pace interact as "the voice for housing" with all jurisdictions in King County; Crowell is director the association's governmental and public affairs department.
The Young Professional Achievement Award went to Kale Corey, a Realtor since mid-2015. In 2019 he will serve a second term as chair of SKCR's Young Professionals Network. Corey also serves on the state association's Young Professionals Board and as a WR state director. He was commended for the crucial roles he played in organizing YPN's annual networking breakfast, and in fundraising for this year's YPN chosen charity, the The MoreLove Project, which connects the community to those in greatest need while teaching love and compassion.
As part of the evening's festivities, installing officer Jerry Martin, 2018 president of Washington REALTORS, swore in next year's slate of officers and directors for SKCR, as well as the leadership teams for the association's Young Professionals Network and Washington Residential Real Estate Council (RRC). RRC, the largest non-profit affiliate of NAR, awards the CRS Designation to experienced Realtors who have completed advanced professional training and demonstrated outstanding achievement in residential real estate.
Robbyn Adelsman, incoming president of the state's Women's Council of Realtors was the installing officer for the 2019 officers for WCR's Seattle Metro and South King County chapters.   
About the Seattle King County REALTORS®
The Seattle King County Realtors® is a nonprofit professional trade association whose goals include promoting ethical business practices and supporting policies that preserve and expand real property rights and housing affordability. Based in Bellevue, SKCR has more than 7,200 members and is a local board of the National Association of Realtors®. The term Realtor® is a registered collective membership mark that identifies a real estate professional who is a member of the National Association of Realtors® and subscribes to its strict Code of Ethics.
Event Sponsors
Diamond



RE/MAX On The Lake
Fairway Independent Mortage

Matt Van Winkle
Peter Zevenbergen





Platinum



US Bank
Compass Washington LLC
Modus

John Higgins
Becca Locke





Gold



Banner Bank
First Tech Credit Union
Keller Williams south Whidbey
Old Republic Title
Chase Mortgage Banking
Helsell Betterman LLP

Luis Hernandez
Becky Norton
John Joynt
Sarah Bahlman
Mark Sanelli
Mike Spence





Silver



CW Title
Commission Express
HSBC

Lisa Umbelino
Michael Goodheim
Kenneth Lu





Bronze



Land Home Financial Services

Lisa Howarth

Annual Affiliate Partners
Ruby
WIN Home Inspection

Sapphire
Chicago Title of Washington
LoanDepot  |  Pitsch Mortage Team
PeoplesBank
Wells Fargo Home Mortgage