Published on: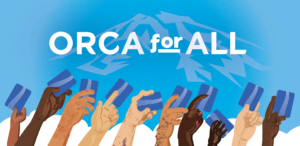 Motivated by twin beliefs that mobility is a human right, and a shift to low-carbon modes of transportation is urgently needed to avert climate catastrophe – a nonprofit social welfare organization has launched ORCA for All. The campaign is designed to persuade more employers, "especially larger employers than can more easily absorb the costs," to subsidize transit passes for their workers.
The campaign is the latest in a multi-year effort by the Transit Riders Union (TRU) to advocate for an expanded transit pass program.
Backers of ORCA for All say they envision a near future "when every resident and every worker in Seattle and King County has an unlimited transit pass in hand, making it easy to choose public transit."
The current campaign has five main goals:
Transit benefits legislation: To increase employer provision of transit benefits, especially to lower-wage workers, through Seattle legislation mandating that large employers subsidize transit.
Transit benefits for public contract workers: Seattle and King County should commit to figuring out how to provide transit benefits for human services workers, construction workers, and other workers employed through publicly-funded contracts.
Step it up, UW: Fully-subsidized transit passes for all University of Washington employees! As Seattle's second largest employer, the UW needs to set a better example.
No-cost fare program: The King County Council will consider a no-cost fare program for the lowest-income riders. We want this program to be as good and successful as possible!
Fare enforcement reform: King County Metro has made progress decriminalizing fare enforcement. We want Sound Transit (link light rail) to step up and do the same.
In other campaigns, TRU has pushed for ORCA LIFT, a low-income reduced fare program; expanding and improving the Human Services Bus Ticket program; supporting Rainier Beach High School students in their quest for free transit passes; and pressuring the University of Washington to fully subsidize transit for all UW employees.
The Transit Riders Union, formed in 2011, is a registered 501(c)4 nonprofit, and as such, engages in political actions such as endorsing candidates for elected office.