Published on:
The fall General Membership Meeting of Northwest Multiple Listing Service covered a range of topics from elections in three districts to strategic planning and national issues.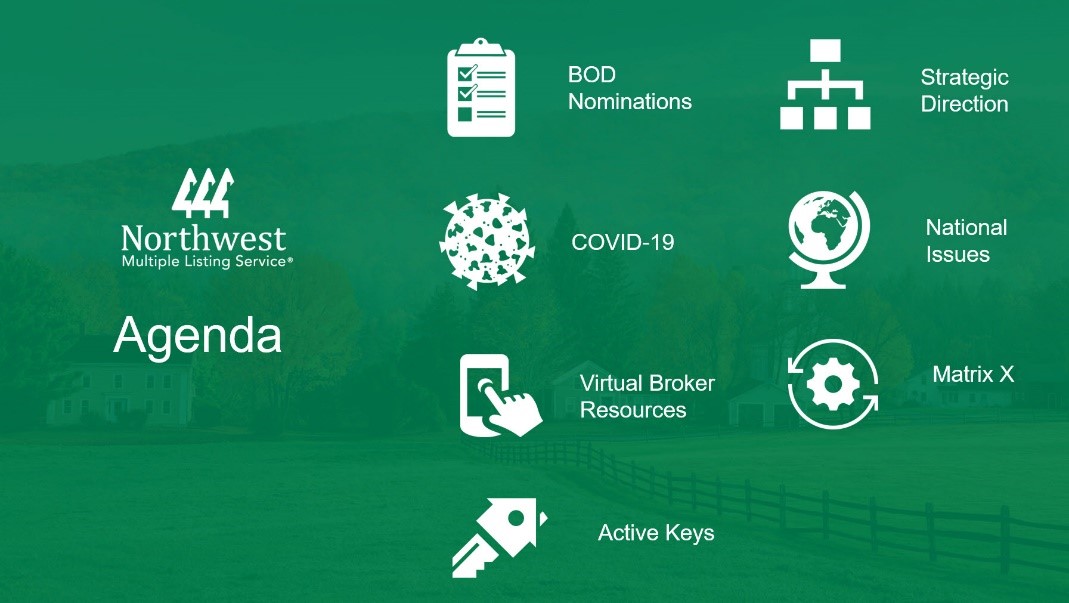 Voting members in three districts (King, Snohomish and Pierce/Thurston counties) will be using Election Buddy's paperless ballots and have until December 11 to submit their votes.
NWMLS President and CEO Tom Hurdelbrink provided highlights and updates from strategic direction initiatives, touching on technology, growth and expansion (welcome Walla Walla!), a marketing and communications audit, and staffing for emerging needs and services. Another important initiative, governance, includes the creation of a task force and a focus on inclusion and diversity to ensure strong representation on decision-making bodies as well as committees.
NWMLS General Counsel Justin Haag discussed the latest COVID-19 protocols for in-person activities and open houses. Comprehensive information on the coronavirus pandemic as it affects real estate is published on the nwmls.com website. Topics include best practices for showings and in-person interactions, FAQs, current restrictions, legal bulletins, an informational bulletin for buyers and sellers, and a compilation of resources and recommendations from the U.S. Centers for Disease Control and Prevention ("CDC").
Shifting to other concerns, Haag briefed the meeting participants on various national issues, including two class action lawsuits, Moehrl v. National Association of Realtors, et al covering more than 20 market areas, and Sitzer v. National Association of Realtors, et al, which concerns claims in Missouri. Discovery is underway in both cases, and both are expected to take years to resolve.
Another national issue in Haag's report was the Department of Justice's (DOJ) investigation into the real estate industry. DOJ is interested in information related to commission rules and amounts, transparency for consumers related to commissions, broker steering, and related issues. Haag noted NWMLS made recent (2019) changes to its rules and forms pertaining to selling office commissions to promote transparency for consumers and give seller's additional options when listing property for sale. The changes are discussed in Legal Bulletin 217 and an accompanying FAQ document.
A third national issue pertains to private listing clubs of some brokers (Top Agent Network, "TAN," and Pocket Listing Service, "PLS"). Both cases relate to NAR's recently adopted "Clear Cooperation Policy" requiring brokers to input listings in the MLS within 24 hours of public promotion. Haag noted NWMLS's Rule 2(c), created in 2013, requires brokers to input listings before any public promotion. In a recent ruling, a U.S. District Court in California essentially said, "pocket listings are bad for consumers," confirming the prudence of Rule 2(c).
Fair Housing was the final national issue Haag discussed. He referenced a 2019 Newsday report based on a three-year undercover investigation indicating widespread unequal treatment of minorities in Long Island, NY. Industry efforts nationally and locally are ongoing to ensure compliance with fair housing protections. (Editor's note: see article elsewhere in this issue on recent NAR initiatives on fair housing.)
Tara Marino, the director of communications and training at Northwest MLS, showcased various virtual broker resources, including Live Stream Open Houses and Multiple Virtual Tours on Matrix, and ShowingTime.  These resources were developed to assist brokers and consumers to conduct more activities remotely during the coronavirus pandemic. She noted the ShowingTime LIVE Video option, enabling brokers to conduct live, interactive one-on-one showings, is available for a free trial through December 31.
Marino said ShowingTime usage, which assists listing brokers and sellers to safely schedule showings, has "exploded" since March, underscoring her point with a chart comparing 2019 and 2020. She also summarized helpful tips, encouraging brokers to download the ShowingTime mobile app. Meeting participants were reminded that various resources, including a webinar, video, and quick start guide are available on the NWMLS website.
In addition to the ShowingTime resources, NWMLS has an extensive selection of training resources covering myriad topics. Options include instructor-led classes, online classes, live webinars, and virtual office trainings.
NWMLS Training Specialist Barb Bowles reviewed recent Matrix upgrades, known as version X. Enhancements include:
Navigation changes
Larger responsive maps
Better email formatting
Contacts page improvements
To close out the fall meeting, COO Monica Beck discussed the sunsetting of ActiveKEYs scheduled for this month (December 2020). Cellular carriers are shutting down the 2G technology used by Supra ActiveKEY on January 1, 2021. Current users need to switch to the eKey, which provides better service and more features at lower cost, while also eliminating the need to carry an additional device. "It turns your phone into your key." The switch and activation can be done over the phone by appointment.