Published on:
Membership meetings for the broker-owned Northwest Multiple Listing Service promised a full agenda, and it did not disappoint! MLS staff previewed several new and enhanced tools and provided updates on a variety of industry activities and concerns.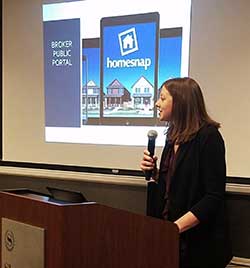 Tara Marino, director of communications and training at Northwest MLS, presented an overview of Homesnap, a joint venture partner with Broker Public Portal and an industry-friendly alternative to third party portal websites.  
Since being developed in 2015 as a collaborative venture between real estate brokerages and MLSs, Homesnap has become a top-rated mobile app and ad-free property search website for member-brokers, subscribers, and their clients.
Consumers who have the free app can snap a photo of a home to uncover accurate, real-time data on 90 million homes.  In addition to providing instant access to school zones, property lines, property history and more (based on GPS locations), it also has a chat feature, newsfeed and the ability to connect with the user's own agent for a particular property.
Homesnap is powered by listing data supplied directly from more than 120 multiple listing services and 800,000 real estate professionals, providing access to more than 75 percent of currently listings in the U.S.
The Pro version provides broker-only data in addition to the information the tool displays to consumers.
Homesnap Pro integrates with Showing Time and has the ability to create and send CMAs in 30 seconds. Brokers can also access a safety timer and "walk the line," a virtual reality tool showing a property's boundaries. An optional add-on (with discounted introductory rates) is co-branding, which includes lead routing.
To help brokers and subscribers become more familiar with Homesnap, Northwest MLS will be offering live webinars, user guides and other support resources. All Homesnap University videos will also be available.
Another new tool being rolled out to NWMLS members is a new Learning Management System (LMS). Once testing is completed (likely by early summer), the LMS will feature improved class registration and notifications, the ability to enroll in self-paced, online clock hour classes (including a New Subscriber Orientation) and in-person courses, plus access to education history and certificates. Marino said the LMS service will free up trainers for more office visits, custom trainings and Q&A sessions.
Marino also announced the MLS will be utilizing MailChimp® as its email marketing platform. The enhancement will mean an updated look to emails, better targeted communication, plus the ability to send Monday Update emails to all subscribers, with an opt-out feature.
The second speaker, Monica Beck, provided an overview of nationwide MLS issues, including MLS consolidations in several areas around the country, notably the District of Columbia, Pennsylvania, South Florida, Ohio and Colorado. As a result of several consolidations in efforts to increase efficiencies and improve services at lower costs, the number of multiple listing services has shrunk from 900 a few years ago to around 700 today.
Beck, the chief operations officer at NWMLS, said Northwest MLS is in discussions with the Walla Walla Association of Realtors, North Central Washington Association of Realtors (in Wenatchee) and others.
NWMLS is also joining GRID LLC, a network of MLSs organized to establish a consolidated, standardized data point of access and management for members. The goal is one data feed, one license agreement, and one set of display rules, and perhaps ultimately a national IDX.
Beck also previewed Upstream, a comprehensive data management project support by many large franchises. The effort, initiated by Realty Alliance, a group of large franchise firms to help brokers manage and control data, is currently funded by National Association of Realtors.
Several technical and political questions about Upstream are yet-to-be answered, Beck noted. These include who will pay for it once NAR funding ends and how the varying software systems will be coordinated.
On the NAR front, Beck noted America's largest trade organization hired Bob Goldberg, as its CEO, promoting him from his position as a senior VP. In a cost-cutting move, NAR suspended Advanced Multi-List Platform (AMP), pledged to continue its focus on governmental affairs, and adopted a rule change to enable "MLS of Choice" starting July 1. Since Northwest MLS is not an NAR MLS, the latter change is not expected to have much impact in this area.
The March meeting also included updates on Washington legislation pertaining to key issues affecting the real estate industry, including SB 6091 (commonly referred to as the "Hirst" decision") concerning water availability for certain development, and revisions to Form 17 (Seller Disclosure Act) pertaining to timber land and oil tanks.
Bob Gent, the third speaker, previewed NWMLS EXPOsed, the organization's first-ever trade show/convention. Scheduled for Wednesday, June 13 at the Lynnwood Convention Center, the event will include classes throughout the day ("even lunch!") with clock hours and a showcase of select vendors. Registration, at $40 per attendee, will open soon.