Published on:
Within days of its rollout, a Canadian company trashed its modest funding goal for a revolutionary kitchen device that converts waste into compost – but it wasn't because of skeptics.
Apparently, 8,100 backers agreed "food waste is gross. It's time for a change." They gave Lomi (the name of the countertop appliance), a green thumbs up with their commitment of $2.7 million – far surpassing the initial goal of $50,000. With six days remaining in the funding campaign, crowdfunding website Indiegogo reported 17,885 backers had committed more than $6.6 million to the B.C. startup.
Materials scientist Daanvir Dhir likened the Lomi to earthworms that break down and mix plant tissue into soil, "except Lomi does this without the small and mess." With the push of a button, heat, abrasion and oxygen accelerate the composting process, he explained. Within 24 hours, food scraps, boxes, bioplastics and other organic waste resemble dirt and become a suitably natural source of soil nutrients.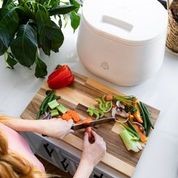 Lomi is manufactured "sustainably and ethically" in Pela's own China-based facility. It comes with a proprietary dual-carbon filtration system that absorbs odors and purifies the air to contain bad smells (depending on what the user is composting).
"Removing significant amounts of methane-producing food waste from landfills is going to be a serious game-changer in our fight against pollution," exclaimed one proponent.
Pela representatives said the company is looking to attract "those who either don't compost their food scraps at all, sending more garbage to landfills, or those who are tired of current kitchen solutions such as smelly containers with biodegradable bags full of oozing yard waste."
Pela officials say Lomi marks the beginning of a new era for the company, "further positioning the brand as a leader within the waste management space." Company CEO and co-founder Matt Bertulli believes the sleek design and seamless function "will make it easier than ever for consumers to shift the way they approach household waste and composting. Similar to having a dishwasher, our goal is for every household to have a Lomi."
As a perk, Lomi backers were offered the product at a discounted price, with shipment to customers in the U.S. and Canada scheduled to start by December.
Based in British Columbia, Pela is an international sustainable company that makes "everyday products without everyday waste." Its products are made of "environmentally sensible and 100% compostable materials," and include the world's first compostable phone cases, smartwatch bans, and AirPods cases.
Images courtesy of Pela