Published on:
Microsoft will begin accepting proposals this month for $500 million from an affordable housing fund it unveiled earlier this year. The tech giant expects to deploy the funds over the next three years.
Applications must meet certain criteria to qualify for the funding which has a three-pronged purpose:
Preserve existing affordable housing;
Spur construction of new units; and
Partner with nonprofits to address the affordable housing crisis on the Eastside of King County and the Puget Sound region.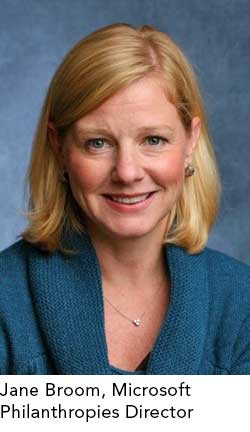 At a meeting in late May, Microsoft Philanthropies Director Jane Broom outlined the criteria for funding and stated, "Our biggest goal will be: can we create replicable products that other investors can use? They can make a little bit of money, we can get the markets to work a little better – that is ultimately what our goal is with this portfolio."
To qualify for funding, projects must have at least 100 units with at least 40 percent of them dedicated to middle-income families, or 80 percent of the units to low-income families. Additionally, the housing must be within a 60-minute commute to Bellevue during peak traffic hours, and developers must commit to keeping the units affordable for a minimum of 10 years.
Innovation, diversity and services for residents, such as daycare centers and healthcare facilities, will also be considered, according to Broom. Some of the great new housing projects the company has seen have opportunity centers and "all kinds of things that really make strong communities," she added.
When Microsoft announced the $500 million fund in January, it specified the commitment would include:
$225 million invested at below market rate returns, focused on preserving and developing new middle-income housing on King County's Eastside.
$250 million invested at market rate returns to support low-income housing across the King County region.
$25 million in philanthropic grants to address homelessness. This includes two initial commitments:
$5 million for the new Home Base program through the United Way of King County, to prevent people from becoming homeless by providing legal representation, helping with back rent and offering caseworker help.
$5 million for the aligned funding that supports the city of Seattle and King County creation of a consolidated entity to address homelessness. This funding will help kick-start a new philanthropic funders collaborative that will work together with government and other partners.
At the same briefing, representatives discussed the company's affordable housing analysis that supports the need to preserve existing and create new affordable housing units for low- and mid-income households in the Puget Sound Region, which is defined to encompass Seattle plus Auburn, Bellevue, Federal Way, Issaquah, Kent, Kirkland, Redmond, Renton, and Sammamish.
Microsoft estimates there is a demand for nearly 654,000 affordable housing units, but a supply of only around 349,000 homes and rentals, leaving a shortage of around 305,000 mid- and low-income affordable housing units in the Puget Sound region as of November 2018.
Analysts also noted:
Since 2011, jobs in the region grew 21 percent while housing grew only 13 percent.
From 2011 to 2018, median home prices rose 96 percent, but median household income increased by only 34 percent.
The number of high-income households has increased 49 percent while mid-income increased 1 percent and low-income decreased, down 7 percent from 2011-2017.
Several professions lack the minimum income ($125,000) required for the minimum home in the region, including nurses, police, emergency medical technicians, firefighters, and teachers.
Commenting on the impetus for establishing the housing affordability fund, Broom told a business group that Microsoft President Brad Smith learned a majority of Redmond's police force couldn't afford to live in the community where they worked during a breakfast meeting with the city's police chief. She also acknowledged the affordability crisis was affecting Microsoft internally and its ability to recruit and retain talent.
"Listening to the debates, listening to the issues, the sense of urgency from the community really came out last summer," Broom said, adding, "We can't just fight, we need to think about what we can do to help improve this."