Published on:
More than two-thirds of newly built single family homes in both the West and South are in a Homeowner Association, according to a report from the National Association of Home Builders (NAHB). Across the U.S., 61 percent of new single family houses were in an HOA, up from 46 percent in 2009.
Both the Midwest, at 47 percent, and Northeast, with 29 percent, lagged the national average, which has experienced a 15 percent increase in the past eight years.
The West topped all regions in comparing the proportion of new homes in a HOA, edging out the South.  Of the 180,000 new houses that were completed in 2017, 68 percent (123,000) of them are part of a homeowners' association. The share climbed 19 percent from 2009.
The South claimed top spot for production, with 435,000 houses completed during 2017. Of these 291,000 (67 percent) are governed by a HOA.
NAHB based its findings on data from the Census Bureau's Survey of Construction. The Census Bureau defines community or homeowners' associations as "formal legal entities created to maintain common areas of a development and to enforce private deed restrictions; these organizations are usually created when the development is built, and membership is mandatory."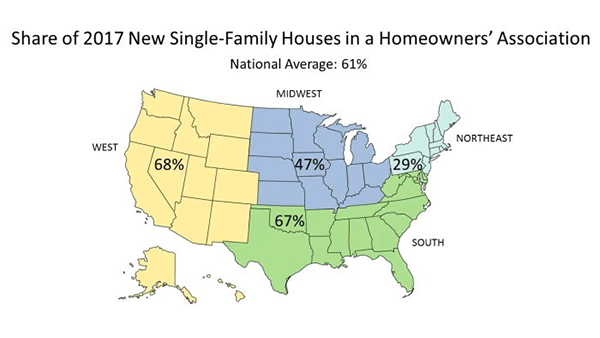 Source: Eye on Housing (National Association of Home Builders)