Published on:
When King County Executive Dow Constantine appointed John Taylor to serve as the first director of the newly created Department of Local Services (DLS), he envisioned a leader for a "virtual city hall" or "go-to agency" for the "unique and diverse" constituents in unincorporated King County. "Everyone in the unincorporated parts of King County should have the opportunity for meaningful involvement in the decisions that affect their communities," Constantine stated.
Upon being named to the new post, Taylor said Executive Constantine wanted to provide a single point of accountability while making sure that everyone who lives in unincorporated King County has their own version of a city hall, a hub that coordinates services that improve their quality of life.
The standalone Local Services department and its 500 employees are the "de facto city government." It is charged with better coordinating and delivering three primary programs to an estimated 250,000 residents and businesses. Collectively, these communities would be the second-largest city in the state.
Taylor briefed members of the Governmental and Public Affairs Committee at Seattle King County REALTORS® on the department's inaugural year. Its three primary programs are road services, permitting and (via service partnership agreements) providing other services to seven community service areas: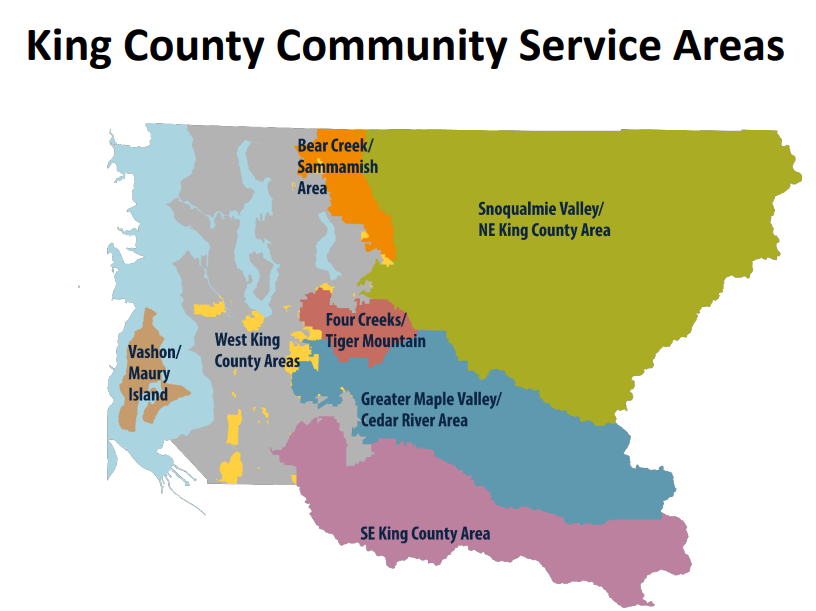 Taylor highlighted a number of accomplishments during Local Services' first year, noting the department is very dependent on property taxes. The achievements included new and proactive approaches to public outreach and community engagement, which encompassed regular weekly "field office" hours and a Town Hall meeting in each of the seven service areas. The department also launched a Conservation Corps pilot program, an Economic Development Program, and a quarterly service delivery report.
The Road Services Division, which is responsible for 1,500 miles of roads and 182 bridges, also notched a number of accomplishments that included resurfacing 45 miles of pavement, numerous capital projects ranging from bridge maintenance projects to school zone safety enhancements, guardrail construction and preservation, sidewalk repairs, and drainage projects.
Road Services workers also responded to a 50-year winter storm and a major rain/landslide event.
The Permitting Division also underwent significant transformations. "People need predictability," Taylor remarked. The Division's website was revised to improve navigation. Additionally, efforts began to move residential permits (about 70% of that division's volume) to MyBuildingPermit.com to ease access.
Service partner agreements were executed covering parks, stormwater services, animal services, and public health. Taylor said the partnerships with other county departments means services can be better coordinated and delivered in a timelier manner. Participating agencies will share data for better transparency and accountability.
When COVID-19 emerged as a health crisis, DLS pivoted to assist, with about half the office staff re-tasked to support the Executive's Office and Public Health in the areas of community outreach, Small Business Assistance Programs, distribution of cloth masks and hand sanitizer, and functioning as a clearinghouse for information.
All staff from Permitting shifted to working remotely as they maintained operations.
Roads Division personnel also worked remotely, maintaining full operations and delivering the full capital program on time and on budget.
DSL also publishes and archives a monthly email newsletter for people who live, work, or play in the county's unincorporated areas.
Creation of the Department of Local Services stemmed from a study requested by the county executive. Senior Deputy Executive Fred Jarrett conducted the project, which was designed to determine how to better provide responsive, effective support to residents and businesses in unincorporated King County. The framework focused on direct and contracted services covering transportation, public safety, and clean water. The King County Council unanimously approved the proposal to create the DLS.