Published on: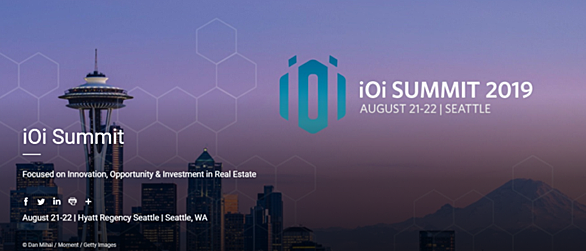 Real estate brokers and industry leaders will join global tech vendors and venture capitalists in August for a two-day event focused on Innovation, Opportunity & Investment ("iOi"). The iOi Summit, a production of the National Association of REALTORS®, is set for August 21-22 at the Hyatt Regency Seattle.
The second annual event is expected to draw over 50 technology companies and leading experts from the industry to share ideas and insights and showcase products and services for the ever-changing real estate technology landscape.
Attendees will include brokers, CTOs, CIOs, IT directors, venture capitalists, mortgage lenders, government officials, title officers, startup founders, and technology vendors. Organizers describe it as "a must-attend event for anyone wanting to embrace, leverage, and be part of the change that surrounds real estate technology both residential and commercial."
"The iOi summit is the best place to hear from industry leaders about where technology will lead the brokerage and MLS business in the future," said Sam DeBord, CEO of RESO and 2017 president of Seattle King County REALTORS®.
Chris Bashinelli, host of "Bridge the Gap" TV series on PBS and the National Geographic Channel and a moderator for the United Nations, will keynote Wednesday's luncheon with a talk on "Change Your Mind, Change Your World.
Among the two dozen other featured speakers are visionary thought leader Stefan Swanepoel, chairman and CEO of T3 Sixty;  journalist/publisher/entrepreneur Brad Inman; Marilyn Wilson, managing partner and founder of WAV Group,  Bob Goldberg, NAR's CEO, and experts from Facebook, Google, and DocuSign.
The NAR is handling registrations for the iOi Summit.