Published on:
With the housing industry gaining momentum and native-born workers slow to return to the construction industry since the 2007 downturn, labor shortages are topping the list of crucial impediments to the home building sector. The aging US workforce is an added concern.
A new report from the National Association of Home Builders (NAHB) underscores its members' growing reliance on immigrant workers.
Two-thirds of builders reported shortages of workers in some construction occupations when surveyed in mid-2017, up from about 30 percent in mid-2012.
NAHB's Economics and Housing Policy Group examined data from the American Community Survey (ACS) and its own studies to better understand the role and share of foreign-born workers, concluding they now account for close to one in four members of the construction labor force. The full 13-page report is available compliments of Housing Economics Online.
More than 300 construction-related jobs are included in the government's system for classifying occupations. Of these, 31 are construction trades, but NAHB found they account for two-thirds of the construction labor force; the remaining third work in finance, sales, administration and other off-site activities.
Researchers found the concentration of immigrants is particularly high in trades needed to build a home, like carpenters, painters, drywall/ceiling tile installers, brick masons, and construction laborers. The report notes such trades require less formal education but consistently register some of the highest labor shortages.
Foreign-born workers make up more than a third of all construction laborers (37 percent) and about 31 percent of carpenters.
Researchers also compared shortages among the states, noting traditionally, immigrants are concentrated in a few populous states. More than half the immigrant labor force lives in California, Florida, New York and Texas. These same states are also particularly reliant on foreign-born labor, led by California at 28 percent and New York with 26 percent.  
NAHB reported the construction industry is even more dependent on foreign-born workers. More than a third of that industry's workforce in these states comes from abroad.  California and the District of Columbia are most dependent with 42 percent of their construction labor force coming from abroad.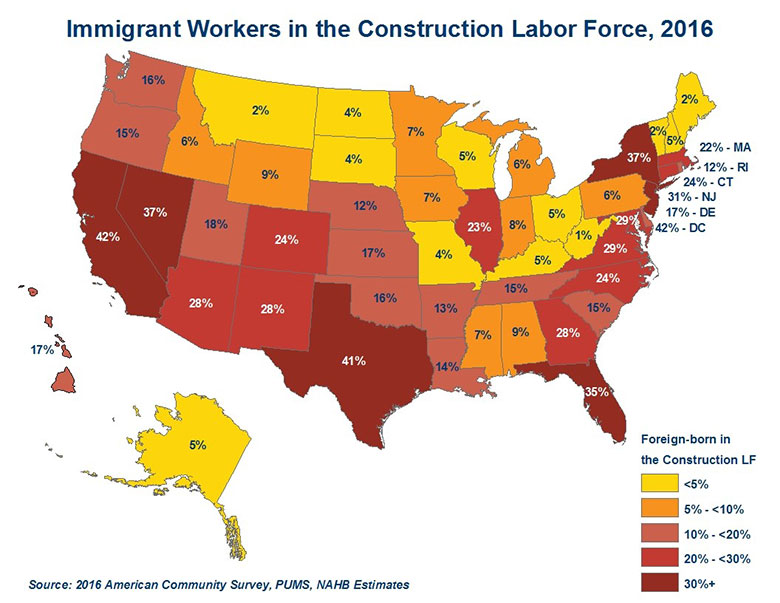 The ACS gathers data about the country of origin, age, year of entry, industry, and employment status of immigrants on an annual basis, but does not gather information on the legal visa status of immigrants. Instead, it only differentiates between naturalized citizens and "not citizens" of the United States. Estimates in the NAHB report include all workers of foreign-born origin regardless of citizenship status or date of entry into the U.S.