Published on: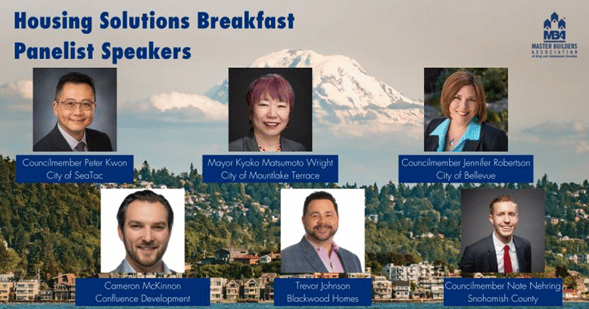 Four local elected officials and a homebuilder (listed above) were panelists at last month's Housing Solutions Breakfast presented by the Master Builders Association of King and Snohomish Counties.
The event also featured keynote speaker Denny Heck, Washington's lieutenant governor, and the recently unveiled MBAKS Housing Toolkit Preview, a compendium of 43 code updates and process improvements to help local jurisdictions facilitate the creation of more housing choices. (Editor's note: the entire 33-page MBAKS Housing Toolkit may be viewed and downloaded at mbaks.com/toolkit.)
Moderator Cameron McKinnon asked panel members about their approaches to increasing the supply of housing, improving housing attainability, their comprehensive plan updates, and their outlook for housing solutions.
Bellevue councilmember Jennifer Robertson said her city is planning to add 2,000 units per year for the next 20 years, acknowledging it is a "heavy lift" and noting current zoning allows for around 27,000 units. That would leave the city about 8,000 units short of what is planned.
The city is looking at a combination of housing types, including infill, smaller developments and multifamily. Even micro housing and allowing housing on church properties and in commercial areas are considerations for increasing capacity.
Robertson, who is a land use and municipal law attorney, said Bellevue has also staffed up in anticipation of processing permits more efficiently. Staffing is a challenge, she noted, but Bellevue is budgeting for more planners and inspectors, and for more training to assure across-the-board consistency. Outside consultants will be used to help fill gaps. The city is also trying to find ways to fast track permitting, but she said many of the processes for local are mandated by the state.
Going paperless has helped with transparency and predictability, according to Robertson. Bellevue is among more than a dozen jurisdictions in King County that use MyBuildingPermit.com, a multi-jurisdictional online permitting portal.
Nate Nehring, a Snohomish County Council member since 2017, responded to a question about creating consensus. He believes reducing barriers at the government level and reducing redundancy would enable the creation of more diverse and more affordable housing such as Missing Middle housing and ADUs (Accessory Dwelling Units). "We sometimes hyperfocus on subsidized housing," he remarked, adding, "We also sometimes lose sight of market-rate housing – and we need to improve conditions for that."
Nehring said planners in Snohomish County and builders meet regularly. He also mentioned Snohomish County Tomorrow, describing it as a "group dedicated to land use and housing issues." The goal of the collaborative inter-jurisdictional forum is to partner and work together for the betterment of the county's citizens. SCT also oversees the Countywide Planning Policies.
Turning to Kyoko Matsumoto Wright, the moderator asked about her perspective on housing, both as a mayor and as a Realtor. "We need more inventory. There is no entry level housing," she replied, adding "Condo reform is needed along with new financing ideas."
Wright, the mayor of Mountlake Terrace, noted while she is not the only Realtor-mayor in the state, she is the only one with light rail coming. (Editor's note: Four new stations and 8.5 miles of light rail are expected to be operational in 2024, connecting Mountlake Terrace to several areas, including Lynnwood, the University of Washington, downtown Seattle, SeaTac, and Federal Way, as well as Mercer Island and Bellevue.)
In anticipation of the new LINK Light Rail station, a Master Site Plan for a transit-oriented development (TOD) called Mountlake Terrace Gateway envisions a built-out property with up to 650 residential apartment units and 100,000 square feet of consumer-oriented retail space.
Wright also noted the hard work surrounding Town Center Subarea Plan, which encourages that area's revitalization. One component of it is an allowance for building heights of up to 12 stories near the transit center. Zoning updates also encourage mixed use development, she remarked.
SeaTac Councilmember Peter Kwon was asked about economic development (a focus of his when he was a candidate) and housing. He recounted his experience dating to 2016 when he wanted to bring an ice cream shop and local brewery to SeaTac, a city of only about 10 square miles, with half of it being the airport. He learned there was not sufficient population to support such businesses. "I know housing is one of the cornerstones for economic development," he stated.
Kwon said SeaTac has ramped up efforts around zoning changes to promote development and redevelopment. Since taking office, he said unpredictability has emerged as an issue. Revamped plans, in part to increase predictability and more variances have led to 600 units in the pipeline, of which 60% will be affordable. "It's a huge win," Kwon remarked. "We're trying to get ahead of light rail that's coming."
Trevor Johnson, CEO of Blackwood Homes and the only builder on the panel, was queried on factors his company considers when deciding where to build. "As we look at jurisdictions, we look at regulations and whether there is flexibility to allow a mix of housing," he replied.
Johnson recounted the long and unpredictable timeline on a three-unit project in Bothell that took three years to complete. Hurdles exist all around the region, he said, suggesting public-private partnerships will be needed to ease the regulatory burdens.
"Regulations continue to grow. I expect this area to become the most expensive place in the U.S.," he stated, adding, "Regulations do not add value."
Looking ahead, Robertson said Bellevue foresees 200,000 residents 20 years from now and a daytime population of 300,000. The vision is for a 15-minute city – one that is urban and dense, but not an edge city.
Johnson said there are opportunities for builders, citing a townhome project in Everett starting in the $500,000 range. "As we partner in various areas, I have great hope my young kids and future grandkids will be able to live here."
MBAKS board president McKinnon, a partner at Confluence Development LLC, observed housing is at the forefront of conversations, "more so than ever." He echoed some of his statements in an op-ed published by The Seattle Times, in which he stressed the need for various interests to better understand the intended and unintended consequences of new policies. "Our region cannot withstand more policies that although well-intended will only make it harder for us to overcome our housing crisis," he wrote.
Wrapping up, Jerry Hall, interim executive director at MBAKS, commented on the daunting challenges builders face, but said he was enthusiastic about the potential smart solutions that can be implemented and expressed optimism for divergent voices coming together. "The region's solutions to housing can't be fixed overnight. Overcoming the barriers will take leadership and perseverance."