Published on:
To set the stage for a discussion on "missing middle housing," featured speaker Karen Parolek presented some key data on shifting household demographics:
Today, 30% of households are single persons;
By 2025, 75-85% of households will not have children;
By 2030, 1 in 5 Americans will be 65+;
Increasingly, multi-cultural society is leading to more interest in multi-generation living.
Parolek was the featured speaker at this year's Housing Issues Briefing, an annual program of Seattle King County REALTORS® for elected officials, candidates and policymakers in King County. She is co-founder and president of Opticos Design, Inc., an architecture and urban design firm specializing in healthy, walkable and equitable communities.
In 2015, Parolek spearheaded the initiative to create MiddleMissingHousing.com. The website is designed to serve as a collective resource for elected officials, planners and developers. Long before launching that resource, she co-authored Form-Based Codes (John Wiley & Sons, 2008), described as "the only comprehensive guide to Form-Based Codes for urban designers, architects, planners, developers and city agencies."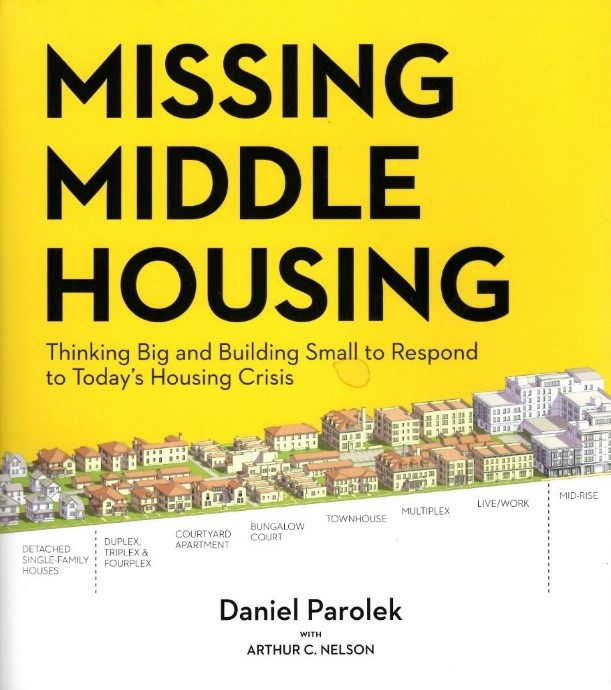 The phrase "missing middle housing," coined by her husband Daniel Parolek, is described as "a transformative concept that highlights a time-proven and beloved way to provide more housing and more housing choices in sustainable, walkable places."
Karen Parolek explained they call these building types, which may include duplexes, fourplexes, cottage courts, and courtyard buildings, "missing" because these "middle in form and scale" have typically been illegal to build since the mid-1940s and "middle" because they sit in the middle of a spectrum between detached single-family homes and mid-rise to high-rise apartment buildings. "Missing middle helps solve the mismatch between the available U.S. housing stock and shifting demographics combined with the growing demand for walkability."
The speaker noted nearly one third (30%) of American households were housing cost burdened in 2020, meaning they spend more than 30% of their income for housing costs. More than one in seven spent more than half their income on housing, according to Harvard University's State of the Nation's Housing report.
Parolek believes the affordable housing crisis will continue to grow and it will be impossible to deliver single family homes at attainable prices due to costs of land, labor, and lumber.
Data show the majority of most towns are zoned for single family homes only. Not only does this limit everyone's housing choices, Parolek noted, it impacts Black households more, contributing to the current racial wealth gap, thereby making it a racial justice issue.
As for what is getting built, Parolek listed three products: apartments in midrises, detached single family homes, and some missing middle housing.
Gen Z, millennials and baby boomers are receptive to small, well-designed units within walking distance to services. A Zillow survey of 12,000 adult residents in 26 major metro areas confirmed a "resounding majority" of the survey respondents support allowing accessory dwelling units (ADUs), duplexes/triplexes and other forms of missing middle housing.
CHARACTERISTICS OF MISSING MIDDLE HOUSING
Located in a walkable context
Lower perceived density (but enough to support services and amenities)
Small building footprints
Smaller but very livable homes
Live like a single family home
May be rental, for-sale or a mix of homes
Thoughtful approach to parking
Simple construction
Helps create strong sense of community
Source: Missing Middle Housing (© 2020 by Daniel Parolek)
Reference the Missing Middle Housing book authored by her husband, Parolek said a long list of barriers make such housing infeasible, "especially for smaller developers." Among the challenges are planning and zoning barriers, community or neighborhood opposition, perceived cost inefficiencies for building small, difficulty in obtaining financing, and, for condominium projects, construction defect laws.
After showing examples of how communities are "moving the needle" to effectively introduce missing middle housing, the speaker noted Opticos, a company where she is a member of the leadership team, conducts two services, the Missing Middle Scan™ and the Missile Middle Deep Dive™. These packages help broaden understanding of the need for change, prioritizes areas that are appropriate and (with the Deep Dive), a detailed analysis of zoning, solutions, and next steps.
Following her presentation, Parolek participated in a discussion with broker and industry leader Michael Orbino, and then fielded questions from the audience.