Published on: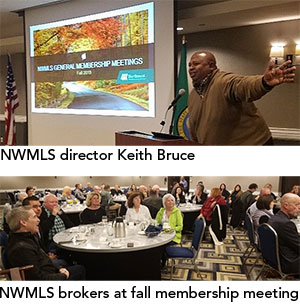 Fall meetings for member brokers across the Northwest MLS service area covered a variety of topics from elections to rules changes and service updates.
This year's elections for board of director positions in several districts will be conducted paperlessly via a voting platform called Election Buddy. That software, designed for member-based organizations, was selected following a comprehensive search for a safe and secure platform. Voting will commence November 15 and conclude December 6.
Item #2 on the agenda was an overview of recent strategic direction sessions with an independent consultant, the board of directors, and senior staff that covered five topics: technology, growth & expansion, marketing & communications, staffing & resource capacity, and governance.
Technology discussions covered ideas ranging from a MLS-owned listing database to licensing forms and data. On the communications topic, staff provided an overview of a communications audit that is underway.
Additionally, results of this year's membership satisfaction survey were reviewed. More than 5,000 subscribers, member brokers and appraisers/commercial brokers participated in the survey, which yields helpful feedback on member satisfaction of MLS products and services. Bellevue-based GMA Research conducted this year's and the previous four surveys, reporting that the findings are considered "highly statistically valid" given an extraordinarily high participation rate.
Among the survey questions, participants were asked to rate NWMLS on customer service attributes. A comparison with scores in 2011 and 2015 showed continued improvement by the MLS in the areas of responsiveness, knowledge, friendliness and professionalism. All four areas were rated 4.4 or higher on a 5-point scale.
Participants were also asked to rate the importance and satisfaction with NWMLS's key products and support services. NWMLS seeks to keep the membership satisfaction ratings as close to or exceeding the importance ratings. Overall, the ratings were deemed to be very high, and reflected improvement compared to past surveys.
The survey also asked respondents to provide feedback on a number of new projects and services, such as public facing/consumer listing searches, listing syndication/distribution services via third party publishers, real estate news stores and market-related infographics, and other services. Those ratings will be considered as NWMLS sets future priorities.
Detailed results of the survey will be published in Monday Update and on the member website.
As is customary, NWMLS always covers rules and forms changes at its member meetings.
Publication of Selling Office Commissions (SOC) was one of the more significant revisions, a move that garnered widespread media coverage, including a report in The Seattle Times which noted NWMLS brokers were among the first in the country to publish commissions, and a move that gives "Washington consumers an advantage."
NWMLS produced an 8-minute video covering the modernization of its rules related to "SOC" to review the revisions (covered in Legal Bulletin 217), the reasons for the changes, and answers to frequently asked questions. That video has generated more than 6,500 views.
Speakers said NWMLS will continue to evolve its rules and policies in response to broker needs and to make them more user-friendly.
New classes and training options were also reviewed for member-brokers. Many new subscribers are taking Essentials and Listing Input classes online, freeing MLS trainers to teach advanced classes. New online classes are in various stages of production, including an advanced Transaction Desk class that will be available in the coming months. Members were reminded that trainers can teach clock-hour classes or custom workshops at their offices.
Speakers at the member meetings asked audience members about their use of Homesnap, a collaborative venture between real estate brokerages and MLSs to create a nationwide consumer home search experience that is believed to encompass listing data on 75% of current listings throughout the country. Upgrades expected by year-end will include up to 35 new search filters, a "Broker Page" icon and link, and other enhancements. Integrations with Matrix are expected in 2020.
Members were also reminded about Down Payment Resource, a tool that connects a firm's clients with potential financial programs.
Photo enhancements that increase both the size and number of listing images in the MLS database are other recent improvements.
Also coming in 2020 are plans for EXPOsed, an event that debuted in 2018. It includes up to 6 clock hour credits via symposium style classes, a keynote lunch speaker, a showcase of vendors, and a happy hour. EXPOsed will be held at three locations next year: Lynnwood (March 31), Tacoma (April 2), and Wenatchee (April 30).