Published on:
Double sinks and walk-in pantries topped the list of most popular features first-time homebuyers want, according to research by the National Association of Home Builders. Using a four-tiered scale (see box) NAHB asked hopeful homeowners to rate 200 home features, including 30 in the kitchen.
The 2021 version of What Home Buyers Really Want is available as a paperback or as a digital (EPUB) report.
  Four-tiered scale
  Essential (unlikely to buy a home without
  this feature)
  Desirable (seriously influenced to buy
  home if included)
  Indifferent (would not influence purchase)

  Do not want (not likely to buy a home with
  this feature)
Eight in 10 buyers (80%) said a double sink and walk-in pantry were essential or desirable features. Three other features also ranked high on the "must-have list:" water filtration (78%), kitchen table space for eating (77%), and a central island (72%).
A high percentage (from 63% to 67%) of first-time buyers rated seven features as essential or desirable. The list included pull-out shelves, a desk or computer area, granite countertops, an instant hot water dispenser, breakfast bar, customized backsplash, and recessed lighting.
Of the 30 kitchen features buyers were asked to rate in the 2021 edition of the report, 23 were rated essential or desirable by more than half the first-time buyers.
The seven features buyers rated as indifferent or "do not want" included a warming drawer, glass front on at least one cabinet, double island, ceramic tile countertop, steam oven, wine cooler, and laminate countertop.
Like first-time buyers, home buyers in general gave high ratings to double sinks and pantries, with 81 percent rating them as essential or desirable.
Differences between repeat buyers and first-timers were revealed at the low end of the scale for most and least popular kitchen features. Repeat buyers are more inclined to say they "Do Not Want" a feature.  Examples included:
Laminate kitchen countertops. Whereas 24% of first-time buyers said they do not want this feature, significantly more – 38% of repeat buyers – rejected them.
Asked about a wine cooler, 36% of repeat buyers rated it as a "Do Not Want" feature, compared to 24% of first-time buyers.
32% of repeat buyers don't want a steam oven, while only 22% of first-time buyers rated the feature as a "Do Not Want" item
Ceramic tile kitchen countertops were rated "Do Not Want" by 31% of repeat buyers and 17% of first-time buyers.
Nearly three of every 10 repeat buyers said they don't want a double island, compared to 19% of first-time buyers.
When asked about their "most wanted" options from the 200 home and community features in the survey, 83% of first-time home buyers put a laundry room at the top of their "essential" or "desirable" lists. A ceiling fan and exterior lighting were the next most popular items on the wish lists. Rounding out the "top 10" list were double kitchen sink, hardwood flooring, walk-in pantry, drinking water filtration, patio, security cameras, and kitchen table space for eating.
Researchers said the ratings of many features tend to be positively correlated with income, noting first-time buyers have somewhat lower incomes.
NAHB reported the most noticeable difference between the features most wanted by first-time buyers and buyers in general is the absence of energy saving features on the first-time buyers' top ten list.  Buyers in general ranked ENERGY STAR rated windows as their #4 most wanted feature, with ENERGY STAR rated appliances 9th on their list.
The builders also tallied buyers' most unwanted features. Among first-time buyers, elevators were on the "do not want" list for 46% of respondents, followed by a golf course in the community at 42%. They found at least 40% of first-time buyers were also unlikely to buy a home with glass walls or cork flooring on the main floor living spaces. Also high on the "rejected" list were a pet washing station, daycare center, wine cellar, roof partially or completely covered by plants, and in-law suite.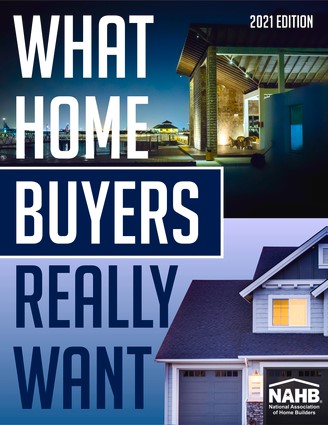 The 306-page report was based on a nationwide survey of 3,247 recent and prospective home buyers, including 541 who bought, or we about to buy their first homes. What Home Buyers Really Want includes tabulations of all home buyer preferences by Census division, age, generation, race/ethnicity, income, price expected to pay for the home, and household composition.