Published on:
Affordable Housing Week will be observed May 8-14 when the Housing Development Consortium hosts a stellar lineup of speakers and panelists who will discuss homelessness and affordable housing in King County.
Now in its seventh year, this year's event is focused on the theme "All in for Housing." It will feature a series of education and advocacy events highlighting the role affordable housing plays in stabilizing communities.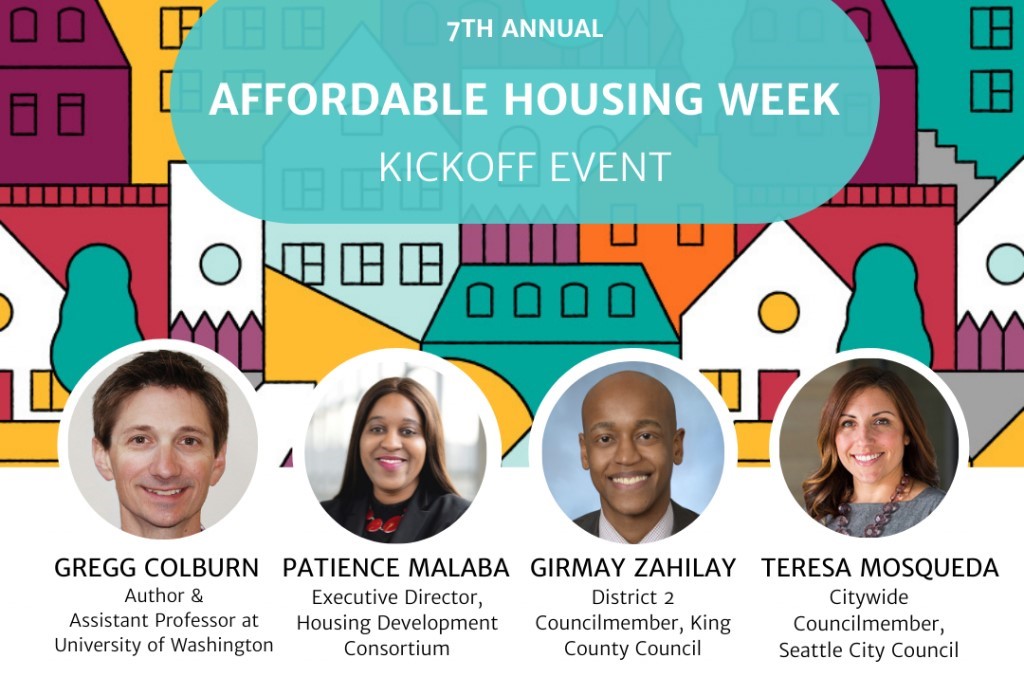 To kick off the event on May 9, HDC's new Executive Director Patience Malaba will be joined by Gregg Colburn, author and assistant professor at the University of Washington; Girmay Zahilay, King County councilmember; and Teresa Mosqueda, City of Seattle councilmember. The program will be held from 3-4:30 pm at the Tateuchi Story Theatre Room at the Wing Luke Museum. Registration is required.
Colburn co-authored Homelessness is a Housing Problem with data journalist Clayton Page Aldern. He is a member of the Bill and Melinda Gates Foundation Family Homelessness Evaluation Committee and co-chair of the University of Washington's Homelessness Research Initiative.
The kickoff event will also honor the 2022 Advocate of the Year, recognizing a local housing champion whose dedicated work has advanced HDC's movement.
Other programs HDC is presenting as part of Affordable Housing Week include sessions on:
Updating comprehensive plans to create thriving affordable communities (May 9, noon – 1:30 pm)
Black homeownership initiative roundtable (May 10, noon – 1:30 pm)
Cedar Crossing building tour at the Roosevelt Light Rail Station (May 11, 3 – 4:30 pm)
Affordable Housing 101 (May 12, 1:30-3 pm). Virtual event.
AHW Closing Reception (May 13, 5-6:30 pm at The Cloud Room)
Also on the calendar is a conversation with Congresswoman Suzan DelBene; a summit on the Vets, Seniors and Human Services Levy; a meetup with King County Councilmember Claudia Balducci; an update on North King County's state of affordable housing; a discussion on advancing renter protections hosted by the Stay Housed Stay Healthy Coalition; and a discussion hosted by Seattle's Office of Housing on the Seattle Housing Levy.
To view a complete calendar with links for registering, visit the HDC website.
The Housing Development Consortium was established in 1988 by ten Seattle-area nonprofit housing providers. Its membership encompasses major affordable housing developers, accountants, architects, attorneys, financial institutions, general contractors, government agencies, public housing authorities and service providers.