Published on:
Various studies and anecdotes show appraisers tend to undervalue homes in Black and Hispanic neighborhoods. That devaluation amounts to about $156 billion in lost equity, according to one well-known educator, journalist, and scholar.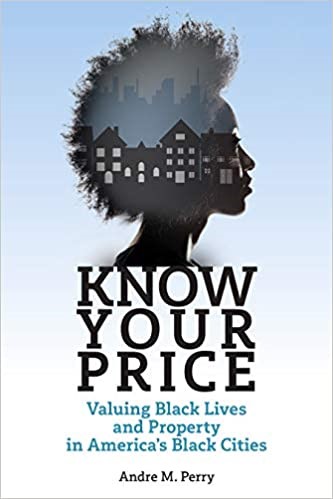 In his book, Know Your Price: Valuing Black Lives and Property in America's Black Cities, Andre Perry, a Senior Fellow in the Metropolitan Policy Program at Brookings and nationally known commentator on race, structural inequality, and education, discusses the cost of racial bias.
Last month, as part of a broad federal effort to address the wealth gap associated with systemic inequity, Vice President Kamala Harris unveiled a 21-step action plan designed to end racial and ethnic discrimination in home appraisals and improve oversight and accountability. It also includes a legislative proposal to modernize the governance structure of the appraisal industry.
The plan's wide-ranging reforms culminate work by an interagency task force created by President Joe Biden. Among trade groups across the housing industry that supported the effort was the National Association of REALTORS®. NAR met with the Property Appraisal and Valuation Equity Task Force (PAVE) to help formulate solutions, which include a five-step plan. (Editor's note: see box.)
One piece of the action plan calls for government expansion of the complaint hotline for
PAVE Action Plan
Make the appraisal industry more accountable.

Empower consumers with information and assistance.

Prevent automatic algorithmic bias.

Cultivate a more inclusive appraiser profession.

Leverage more federal data and expertise.
the Department of Housing and Urban Development and the Consumer Financial Protection Bureau. Additionally, there will be appraisal bias training in homebuyer education classes.
Since 2019, appraisal bias complaints have spiked tenfold, according to HUD.
The U.S. Bureau of Labor Statistics reports about 97% of appraisers are white, making it one of the least diverse professions in the country. According to research, appraisers choose comps in a narrower geographic range for properties in Black and Latino neighborhoods than in white neighborhoods.
In response to some of the research findings, the Appraisal Institute only recently acknowledged that racial bias is an issue, but it has not yet fully acknowledged such bias is structural. A statement from Rodman Schley, president of the international professional association, said "unconscious bias is real and exists in all industries."
"Know Your Price" author Perry, who is also a scholar-in-residence at American University and columnist for the Hechinger Report, co-authored a 2018 Brookings Institution report, "The Devaluation of Assets in Black Neighborhoods," which found homes in Black neighborhoods are valued at 23% less, on average, than those in white neighborhoods, even though they have similar neighborhood and property characteristics and amenities. In an extension of that report's focus on housing, he has also examined other assets such as businesses, schools, and banks.
Freddie Mac's research uncovered "pervasive appraisal gaps" after they analyzed more than 12 million housing appraisals for transactions spanning the years 2015 to 2021. As the concentration of Black or Latino residents in census tracts increases, so too does the appraisal gap, according to the analysts.
That 2021 study found that 12.5% of appraisals for home purchases in Black neighborhoods and 15.4% in Latino neighborhoods came in below the contract price. By comparison, only 7.4% of appraisals in white neighborhoods were below the contract price. Researchers also noted the appraisal gaps are wider now than during the 1980s.
Such forms of discrimination can reduce the cash-out available and result in higher interest rates and mortgage insurance premiums when refinancing. It also widens the racial wealth gap, making it harder for many from disadvantaged backgrounds to move up the economic ladder. Additionally, Perry stated, it's money that could have been invested in education and entrepreneurship.
Sociology professor Junia Howell from the University of Illinois, Chicago, has conducted various studies on appraisal bias. Commenting on the Freddie Mac study, she said it reinforces that the disparity is systemic.
"Individual bias is affecting these things, but it's actually a structural issue, across different appraisers who have different background, and in different counties," she told a writer for Bloomberg. "We're seeing this inequality across the board, really demonstrating that it is deeply embedded in the ways and the methods of appraising.
"Historically, many groups have faced unfair home undervaluation," Leslie Rouda Smith, NAR's president, said in a statement following the release of the PACE report. "Addressing those wrongs is key to providing financial stability to not only homeowners, but entire communities, and benefits the nation as a whole."