Published on:
3D printed homes are popping up in multiple markets, including the United States, Europe, South America, and elsewhere. Proponents say they will revolutionize the home building industry and help solve widespread housing concerns ranging from inadequate supply to affordability.
In an interview with CNBC, builder Kirk Andersen said, "We're trying to build homes and houses in half the time for half the price." As director of operations at SQ4D, a New York-based company, Andersen expects profits to be higher as a result of efficiencies.
Earlier this year, SQ4D used 3D-printing technology to build a 900-square-foot model home on Long Island and subsequently produced a 1,500-square-foot home that was offered for sale. The 3-bedroom, 2-bath home with a garage was offered at just under $299,000, reportedly about half the asking price of a comparable newly built home in the area. Demand for what was believed to be the first such listing in the U.S. was described as "off the charts."
Another company, ICON, claims to be the first American firm to secure a building permit for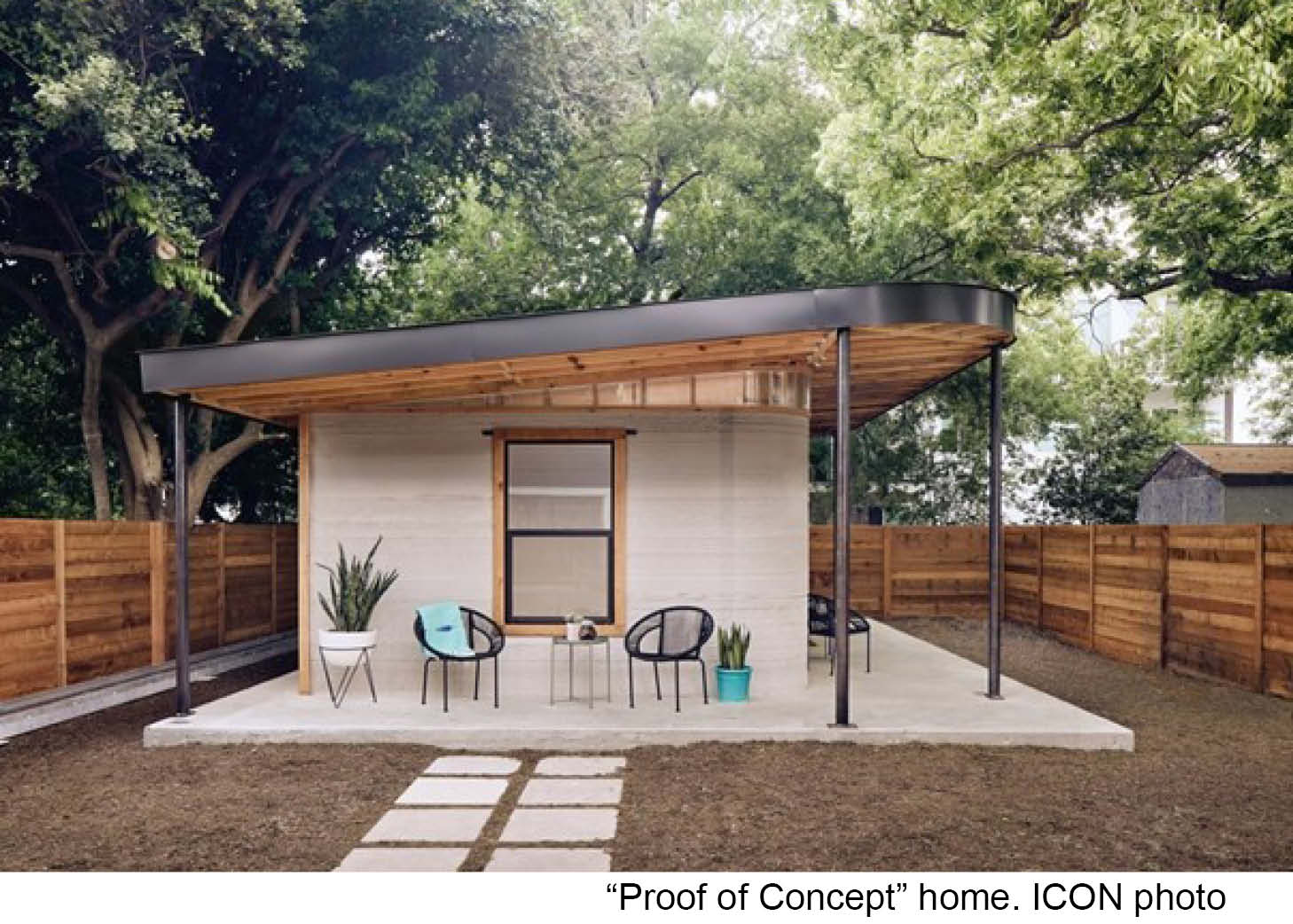 and build a 3D printed home. Upon obtaining the permit in 2018, it built a "proof of concept" house in Austin, Texas. That structure drew widespread interest from investors and customers and is now used as office space for the owner.
Since then, the privately held, for-profit company has integrated proprietary 3D printing robotics, software, and advanced materials to deliver two dozen 3D-printed homes and structures across the U.S. and Mexico, and has raised more than $266 million in funding.     
Believing stagnancy in home building that has not kept up with demand and population is contributing to the housing crisis, ICON's founders are focused on "shifting the paradigm of homebuilding on Earth and beyond." Affordability, sustainability, and availability are the three problems it is striving to address, noting "over one billion people do not have adequate shelter."
ICON's mission is "to reimagine the approach to homebuilding and construction to make affordable, dignified housing available to everyone throughout the world." Its Vulcan construction system (3D printer for homes) can deliver projects in seismic zones, flood-prone areas, and in a variety of challenging climates and constraints.
3D printed homes ranging from 400-to-500-square feet typically take around 24 hours spread across several days to complete the full wall system. ICON has printed three homes simultaneously. Projects require around three or four people, with one or two on the printer system and a similar number on the Magma material delivery system.
Developers say the technology providers "safer, more resilient homes that are designed to withstand fire, flood, wind, and other natural disasters better than conventionally built homes." The company's homes are built to the International Building Code (IBC) structural code standard, and they are expected to last as long or longer than standard Concrete Masonry Unit (CMU) built homes.
In late summer 2020, the first people to ever live in a 3D-printed home in the U.S. moved into their 400-square-foot home at Community First! Village, also in Austin. It offers "dignified, affordable housing" at what is believed to be the country's only master planned development designed specifically for the chronically homeless.
ICON has also developed the world's first community of 3D-printed homes in Nicajuca, Mexico (in the state of Tabasco), working with housing nonprofit New Story. Families there live on $3 a day. Another achievement includes construction systems to create infrastructure and habitats on the moon, and eventually, Mars, with NASA.
In a joint venture with 3Strands, a Kansas City-based developer, ICON completed East 17th Street Residences in East Austin using a combination of 3D printing and conventional construction methods. Homes in the four-unit project are  sized from 925 square feet to 1,928 square feet, with asking prices ranging from around $450,000 to nearly $800,000.
ICON photo by Regan Morton Photography
Currently, ICON has projects underway to deliver social housing in underserved communities, disaster relief housing and mainstream housing developments. It has also created a barracks for Texas Military Department — purportedly the largest 3D-printed structure in North America.
In partnership with the Texas Military Department, ICON created and 3D printed an energy-efficient training barracks at Camp Swift Training Center in Bastrop, Texas. Designed by Logan Architecture, the 3,800-square-foot building can house up to 72 military personnel while training. ICON photo
Company officials say the Vulcan is the first printer of its kind that has the capability of site-printing homes "in which people actually want to live," adding, "It can be operated by anyone with basic training thanks to the improvements in automation, mechatronics, and a suite of specialized software."
In addition to the SQ4D and ICON projects, several other companies are in the 3D built environment or in the early stages as start-ups, including:
Palari Group in Beverly Hills, which is building 15 eco-friendly 3D-printed homes near Palm Springs. The 1,450-square-foot, single-story residences will have 3 bedrooms, 2 baths, a deck and swimming pool, with prices starting at just under $600,000. Buyers will have an option to add a smaller 2-bedroom, 1-bath secondary home at a cost of $255,000.
Germany-based Peri 3-D with Danish technology partner COBOD. Their built their first house in Germany and subsequently built a 1,738-square-foot home in Tempe, Arizona for Habitat for Humanity.
Apis Cor, with headquarters in the U.S. and Russia, built a full-scale house in just 24 hours in Russia in 2017 and took part in the "3D Printed Habitat Challenge" organized by NASA.
XtreeE, a French company that operates globally, specializes in low-rise buildings.
Winsun (Yingchuang Building Technique) in China started as a material supplier before evolving into 3D printing. It built 10 printed houses in a single day in 2014 and claims that a standard house can be built in a day for less than $5,000. They've sold more than 100 homes in China.
CyBe Construction of the Netherlands builds both low- and high-rise buildings. Projects include the G+7 apartment complex in Mumbai, a 3D printed house in the Sharjah Research, Technology and Innovation Park (UAE), and versatile, expandable, affordable housing.
Mighty Buildings, based in Oakland, California creates 3D printed modular pre-fab homes and accessory dwelling units. It is partnering with Palari Group on the 3D printed zero net energy homes in Rancho Mirage, California.
WASP (World Advanced Saving Project) recently created the Gaia project, an eco-sustainable house printed onsite in Massa Lombardo, Italy as a demonstration project.
Reflecting on the potential of 3D printed housing, ICON Co-Founder Evan Loomis described it as "the beginning of a true paradigm shift in homebuilding."