Published on:
LOCATION: KIRKLAND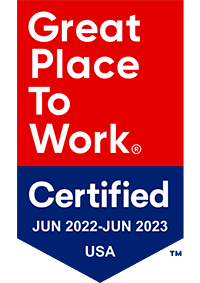 Click on the banner to see why we qualify as a Great Place to Work!
We are seeking an Instructional Design Specialist I. This position is eligible for hybrid remote work! Our hybrid remote work option allows eligible employees to work remotely up to 3 days per week. For days when you are in the office, there is free parking.
COMPANY INFORMATION:
Northwest Multiple Listing Service is a not-for-profit, member owned organization, and is the largest full-service MLS in the Northwest. Its membership includes more than 33,000 real estate brokers and appraisers. We provide superior systems, products, and services for the technologically savvy real estate industry in the Pacific Northwest. The organization, based in Kirkland WA, currently serves 26 counties in Washington state.
We pay competitive salaries and offer a comprehensive benefits package including medical, dental, vision, flexible spending accounts, life insurance, EAP, and 401(k).
POSITION SUMMARY:
As NWMLS's Instructional Design Specialist, you will be responsible for using your curriculum development and design skills to create engaging online courses for our membership of real estate professionals. You will work closely with the Training Supervisor to review and document course curriculum for the NWMLS Real Estate School, to ensure consistency between online and instructor-led courses. Additionally, you will provide back-up support for tasks such as facilitating in-person and virtual classes, workshops and webinars, and will collaborate with team members to ensure NWMLS training strategies are meeting the overall needs of the organization.
JOB FUNCTIONS:
Primary Responsibilities
At the direction of the Training Supervisor, develop engaging online courses for NWMLS products and services using approved course curriculum
Assist with documenting NWMLS Real Estate School curriculum and course materials, to ensure consistency between online and instructor-led classes
Assist with project management and inter-departmental coordination for launching and updating online courses and learning management system changes
Review course evaluations to monitor the effectiveness of NWMLS online courses and consistently implement changes as necessary
Stay informed of changes/enhancements to products and applications and update course content prior to the release of new features
Identify and assist with the development of training materials, classes, workshops and other opportunities for NWMLS to enhance membership and staff training
Work collaboratively with the training and communication teams to ensure NWMLS training is consistent and professionally delivered and meets the overall needs of the organization
Secondary Responsibilities
Facilitate instructor-led virtual courses, webinars, and in-person classes/workshops as necessary
As needed, verify and input system access privileges, class attendance, and approve clock hours for class attendees using NWMLS's learning management system
Provide customized training/presentations for member firms, committees or groups as needed
Setup and troubleshoot laptop computers and portable classroom equipment (as needed, for in-person classes)
As scheduled, provide one-on-one assistance to members during in-person/remote Q&A sessions
Assist with internal staff training as needed
Attend and present at tradeshows and special events as needed
Assist with reporting, testing, & evaluating "bugs" and enhancements for NWMLS applications
Participate in the Training Escalation phone queue and answer training related emails from members
QUALIFICATIONS:
College degree in instructional design, educational technology or a related topic (or equivalent experience)
Solid knowledge of at least one learning management system
Excellent knowledge of adult learning theories and instructional design models
Experience with storyboarding and lesson/curriculum planning
Ability to write effective copy, instructional text, audio scripts/video scripts
Experience using online training software, such as Articulate, Camtasia, and Captivate
Experience using virtual meeting/webinar software, such as GoToWebinar or Zoom
Must have a warm, caring, helpful attitude and be committed to exceptional customer service
Must be detailed-oriented with exceptional organizational skills
Must be able to adapt and multi-task in a dynamic and changing environment
Must be a team player, willing to jump in to ensure tasks are completed within company deadlines
Must be a motivated self-starter
Basic HTML programming knowledge preferred
Visual design skills (Dreamweaver, Photoshop, Illustrator) a plus
Real estate industry experience is a plus
Must have reliable transportation and the ability to travel when necessary
COMPENSATION:
$60,000/yr to $70,000/yr
CONTACT INFORMATION:
Please send your resume and salary requirements directly to hr@nwmls.com with the position title "Instructional Design Specialist" in the subject line.

Note: This job description in no way states or implies that these are the only duties to be performed by an employee in this position. Employees may be required to follow other job-related instructions and to perform other job-related duties as requested. Job functions may be subject to modification at any time at the discretion of NWMLS.

Principals only. Recruiters, please don't contact this job poster.
Please do not contact job poster about other services, products or commercial interests.